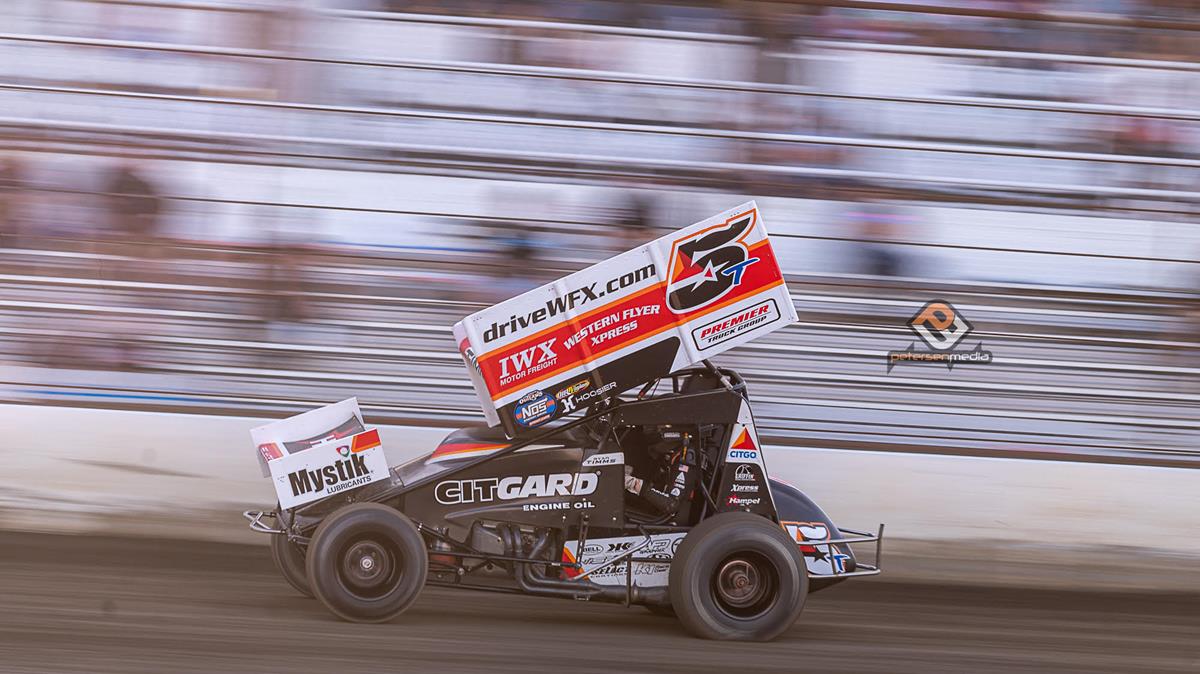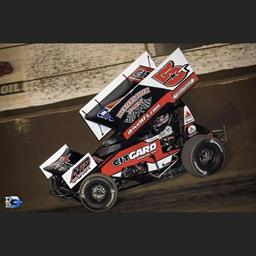 ---
Ryan Tims Caps Trophy Cup 9th in Final Points
PETERSEN MEDIA: There's just something about the Thunderbowl in Tulare, CA that matches well with young Ryan Timms. Winning the Trophy Cup finale in 2021, Timms picked up a prelim win in 2022, and followed that with a prelim podium in 2023. Sitting second in Trophy Cup points heading into Saturday's finale, Timms ultimately finished 13th in the feature and 9th in the final standings.
"Every time we get out to Tulare, CA we have a ton of speed, but that place, and the Trophy Cup event is about everything going your way," Ryan Timms said. "We were super fast each time we hit the track, but Thursday night I put myself in a bad spot in the feature and ended up in the wall, and Saturday we just could not get going after starting 19th in the 'A' being second in overall points."
Thursday night, Timms came out swinging as he heard fast time honors in his qualifying group aboard the CITGO/Hampel Oil/Mystic Lubricants backed No. 5T.
Lining up sixth in his heat race with the big Trophy Cup inversions, Timms thrilled the crowd as he moved into third on the opening lap and hooked up in an entertaining battle with Dominic Scelzi. Making a bold move in turns three and four, Timms took the heat race lead, and went on to pick up the win. In doing so, he was the only fast qualifier to do so, and entered the feature as the top point earner.
Lining up 12th in the 'A' with the Top-12 in points inverted, Timms went to work as he looked to fight his way forward in a fast paced feature event. Racing into the Top-10, Timms raced into ninth and was looking for more with time running out.
On the 20th lap, Timms attempted to make move off of two, but he ran out of real estate and got pinched into the wall and contact brought his night to an end.
Back in action on Friday night looking to better his point total, Timms got off to another strong start as he timed in 2nd fastest in qualifying time trials before again hooking up in another heat race battle with Scelzi.
Finishing fourth, Timms locked himself into the feature event as the highest point earner in the heat race. When all heats were completed, he was sixth in points heading into the 'A', and lined up 6th for the 30-lap feature event.
On a racy Thunderbowl Raceway, Timms hooked up in some entertaining battles on the high banked bullring as he battled with the likes of Justin Peck and Scelzi as they all fought for the final position on the podium.
When the checkered flag was displayed to the field, Timms crossed the stripe in third, and sat in a very good position heading into Saturday's Trophy Cup finale.
Sitting sixth in points, Timms lined up eighth in heat race six. With one final opportunity to earn points before the feature, Timms took full advantage as he charged his way for eighth to third. In doing so, he improved his point standing as he advanced from sixth to second, and lined up in the 10th row of the feature event alongside Corey Day.
From his 10th row starting position, Timms admittedly made too many mistakes trying to work through traffic. Working hard to get through the stout field that was assembled, Timms was able to get up to 13th when the race came to a close, and that equated to a ninth-place finish in the final point standings.
"It's a tough race in the scheme of things," Timms said. "It's a loaded field of cars, and the inversions are tricky, but that's what makes it such a popular event. It was a good thing to be deep in the inverts because that meant we were good, I just needed to be a little better on my end in that final feature."
Ryan Timms would like to thank CITGO, Hampel Oil, Mystic Lubricants, Premier Truck Group, Western Flyer Xpress (WFX), IWX Motor Freight, K1, Durst Inc., Bell Helmets, Griffin Fishing Charters and Lodge, Xpress Truck Sales, Smith Ti, Blackbeard, AFD Graphix, Outlaw Wings, 947-Eyes, Kahne Screen Printing, ShopTeam5T.Com, TJ Forged, WFX Logistics, Select Coatings, Smiley's Racing Products, WFX Energy Services, and EMI for their support.
BY THE NUMBERS: Races-102, Wins-10, Top 5's-26, Top 10's-45
ON TAP: Timms will remain in California this weekend as he travels to Kern County Raceway Park to race with the NARC/KWS Series.
STAY CONNECTED: Stay updated with Ryan Timms by 'Liking' him on facebook at www.facebook.com/ryantimmsracing or by following him on Twitter at both @Timms5T and @RyanTimms_5T.
For all of your Ryan Timms Merchandise, please visit www.shopteam5t.com.
PETERSEN MEDIA: Petersen Media is a PR firm that can handle your public relations, marketing, and any other promotional needs. Petersen Media utilizes multiple tactics to help you reach your intended audience, to boost awareness.
For more information contact sales@petersenmediainc.com, by phone at 916-342-3424, visit www.petersenmediainc.com, www.facebook.com/PetersenMedia, or follow www.twitter.com/petersen_Media.
---
Article Credit: PJ Petersen | Petersen Media
Back to News