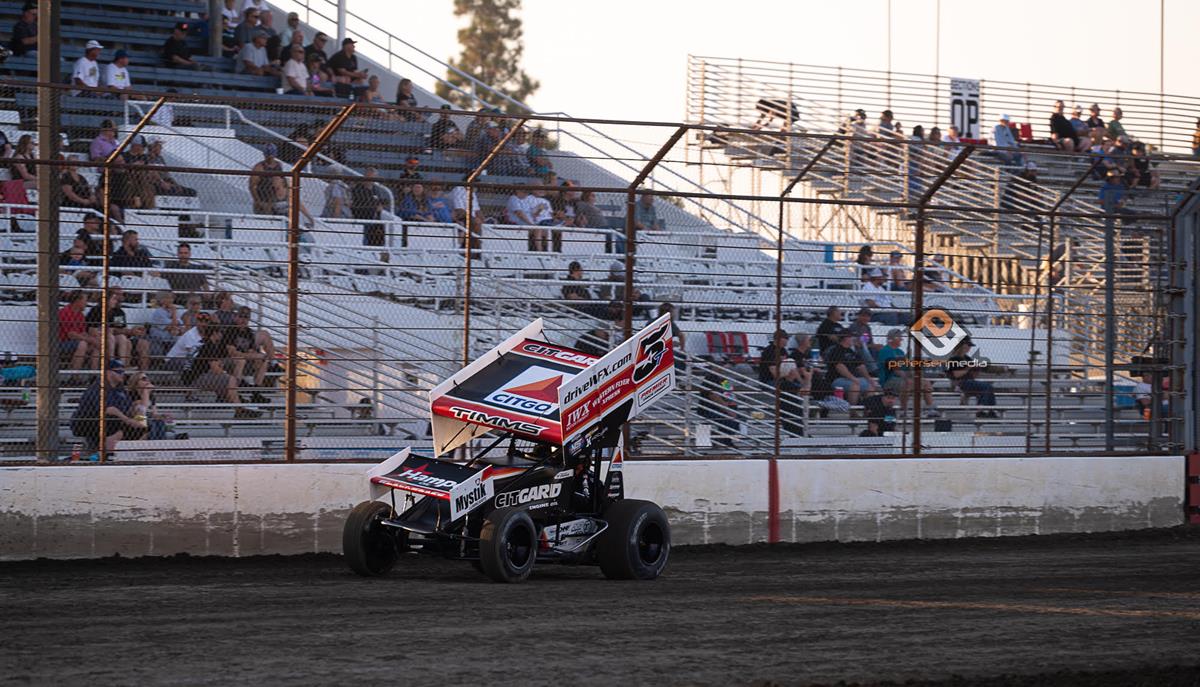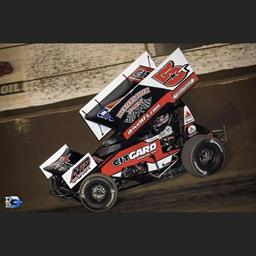 ---
Late Race Tangle Knocks Ryan Timms Out of KWS/NARC Feature Event
PETERSEN MEDIA: Turning October into an annual California swing the last few seasons, Ryan Timms headed to Bakersfield, CA on Saturday night to take on the KWS/NARC Series at The Kern County Dirt Track. Running inside the Top-10, a late race tangle ended Timms' night early while he was running inside the Top-10.
"We had good speed all night long, it was just tough to pass in the feature event," Ryan Timms said. "Unfortunately, a car spun in front of us, and we got into him and it ended our night."
With 20 cars checked into the series' penultimate event, Timms timed the CITGO/Hampel Oil/Mystic Lubricants backed No. 5T in fourth fastest in qualifying time trials.
With the car count, the series utilized a three-heat format and it put the 17-year old Oklahoma City, OK native on the front row of his heat race.
Settling into second when the heat race came to life, Timms was patient as he worked around the Kern County Dirt Track. Utilizing a late move, Timms powered into the lead and went on to pick up the win and make himself eligible for the Dash.
Finishing third in the Dash, Timms was set to go to battle from the third row for the 30-lap feature event. On a track that stayed narrow much of the night, Timms slipped back to seventh as the field settled in around the 1/3 mile oval.
Running inside the Top-10 as laps clicked off, a spinning car ahead of him left Timms with nowhere to go and the damage from the contact was enough to bring his night to an end on the 21st lap.
"It was a tough way to end our night," Ryan Timms said. "We had some good car speed, and hopefully we can continue that this week in Stockton, CA before we switch gears to midget action."
Ryan Timms would like to thank CITGO, Hampel Oil, Mystic Lubricants, Premier Truck Group, Western Flyer Xpress (WFX), IWX Motor Freight, K1, Durst Inc., Bell Helmets, Griffin Fishing Charters and Lodge, Xpress Truck Sales, Smith Ti, Blackbeard, AFD Graphix, Outlaw Wings, 947-Eyes, Kahne Screen Printing, ShopTeam5T.Com, TJ Forged, WFX Logistics, Select Coatings, Smiley's Racing Products, WFX Energy Services, and EMI for their support.
BY THE NUMBERS: Races-103, Wins-10, Top 5's-26, Top 10's-45
ON TAP: Timms will remain in California this weekend as he travels to Stockton, CA to race with the NARC/KWS Series.
STAY CONNECTED: Stay updated with Ryan Timms by 'Liking' him on facebook at www.facebook.com/ryantimmsracing or by following him on Twitter at both @Timms5T and @RyanTimms_5T.
For all of your Ryan Timms Merchandise, please visit www.shopteam5t.com.
PETERSEN MEDIA: Petersen Media is a PR firm that can handle your public relations, marketing, and any other promotional needs. Petersen Media utilizes multiple tactics to help you reach your intended audience, to boost awareness.
For more information contact sales@petersenmediainc.com, by phone at 916-342-3424, visit www.petersenmediainc.com, www.facebook.com/PetersenMedia, or follow www.twitter.com/petersen_Media.
---
Article Credit: PJ Petersen | Petersen Media
Back to News