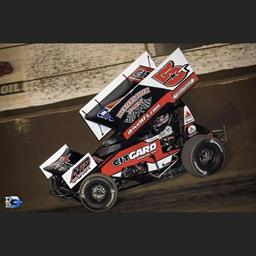 ---
Timms wires Dog Hollow field, earns $3,000
OKLAHOMA CITY, Okla. (07/12/22) – Ryan Timms visited Victory Lane in the Keystone State on Friday night aboard his CitGard Engine Oil / driveWFX.com No. 5T CITGO / Hampel Oil / Western Flyer Xpress / Mystik Lubricants / Eagle Chassis/ Rider Racing Engine Sprint Car.
His ninth win of the year was worth $3,000 and came at Dog Hollow Speedway.
"Shout out to Billy, Jimmy, Matt, and everyone with the team for making this Eagle Chassis go fast. We hit the ground running at Dog Hollow (Speedway) and never looked back. It was a fun track and a fun night," Timms noted. "We had a pretty good car on Saturday at Port Royal (Speedway) too. Even with the flat (while running second), I was able to race back to an eighth-place finish, and I learned a lot."
"We've got a big week of racing in front of us with the USAC National Midgets, and I'm looking forward to chasing more wins and seeing a lot of great fans."
Ryan Timms returned to action in Pennsylvania on Friday night with a visit to Dog Hollow Speedway (Strongstown, Pa.) for the track's first time hosting 410 c.i. Winged Sprint Cars after a five year absence.
Earning the second-starting position for the feature via a heat race win, Timms grabbed the lead on the drop of the green flag and led wire-to-wire in the caution-free 25-lapper, which took just a few seconds over six minutes to complete.
He claimed his ninth win of the season and $3,000 paycheck ahead of Sye Lynch, AJ Flick, Dereck Hauck, and Jack Sodeman Jr.
On Saturday afternoon at Port Royal Speedway (Port Royal, Pa.), Ryan's third-place finish in his heat placed him on the fourth row for the main event. Timms made up ground early-and-often in the 25-lap affair and was catching the leader before suffering a flat, right-rear tire. After a trip to the pits, he rebounded to an eighth-place finish at the checkered flag.
Full results from the events are available at www.DogHollowSpeedway.net and www.PortRoyalSpeedway.com.
Timms now has a quartet of NOS Energy Drink USAC National Midget events in front of him with the Mid-America Midget Week. The busy slate opens on Tuesday, July 12 at Red Dirt Raceway (Meeker, Okla.) before shifting to Solomon Valley Raceway (Beloit, Kan.) on Wednesday.
From there the action moves north to Jefferson County Speedway (Fairbury, Neb.) on Friday and Saturday for the fifth annual Midwest Midget Championship.
For more information on the events, please visit www.USACracing.com .
Back to News