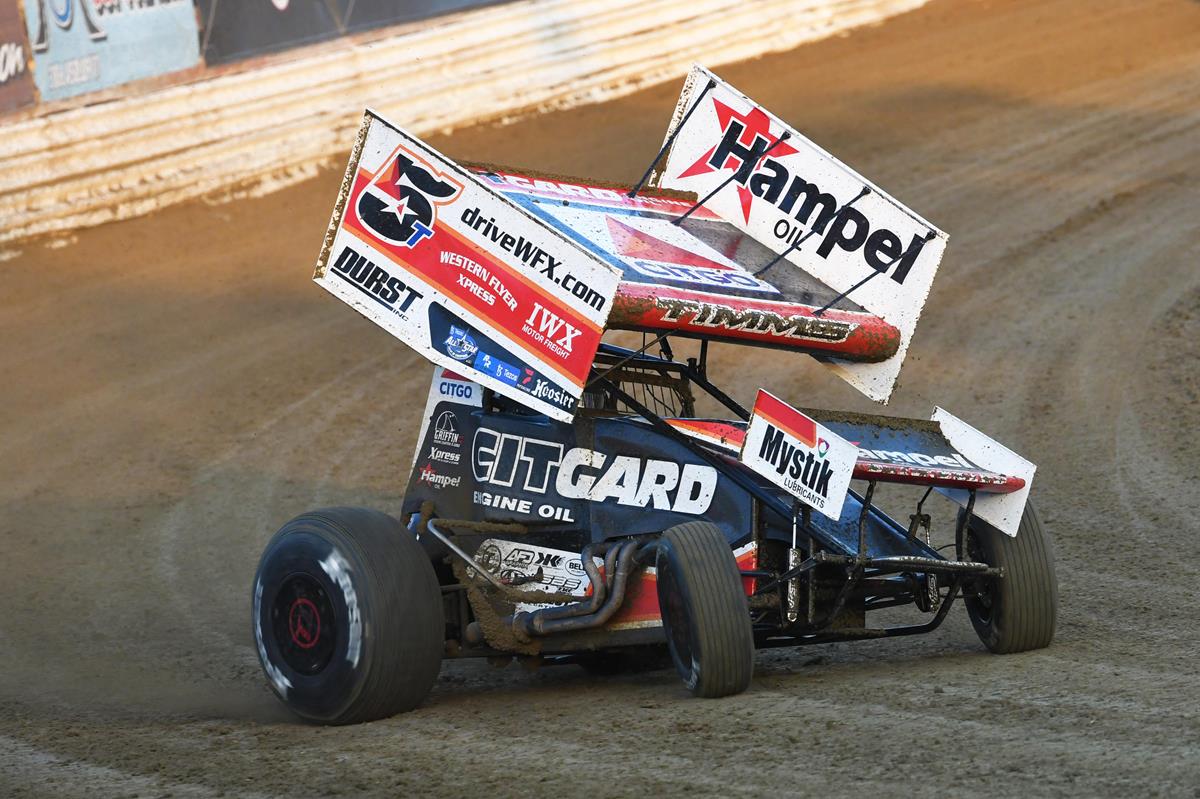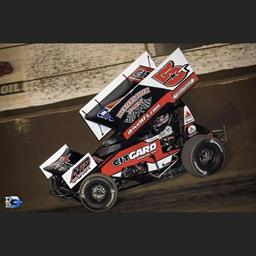 ---
Ryan Timms 6th To Close 410ci Portion of Florida Speedweek
PETERSEN MEDIA: Kicking his 410ci season off in a big way over the last week in Florida, Ryan Timms saved his best for last as he picked up a sixth-place finish with the All Star Circuit of Champions Tuesday night at East Bay Raceway Park.
"Volusia was tough," Ryan Timms said. "After the speed we had in our 360ci, I was confident I could put together a solid week there, but I was wrong right off the bat. We struggled the first few nights, and I did get more comfortable each time we hit the track. It is a tricky place that I need more laps at for sure."
Spending the first two nights of the week competing under All Star Circuit of Champions sanction, Timms opened the trip up by timing the CITGO/Hampel Oil/Mystic Lubricants backed No. 5T entry in eighth fastest in his group.
Lining up eighth in his heat, the Oklahoma City, OK native would finish eighth before going from ninth to sixth in the semi.
A little dejected, Wednesday night got off to a better start for the 16-year-old driver has he timed in sixth quickest in his group and then went on to finish sixth in his heat race.
Mired in the 'B', Timms would make a couple of nice moves around the ½ mile oval and work his way into the fourth and final transfer position into the feature event.
Locking into the 'A', Timms would start shotgun on the field as he rolled off the starting grid from the 24th starting position. Logging more laps on the lightning fast ½ mile, Timms picked up a handful of track position over the course of the feature event as he finished his night by coming home 19th.
Thursday night changed gears as it marked the season opener for the World of Outlaws NOS Energy Drink Sprint Car Series, which brought in a bit of a different format.
Timing the WFX/Premier Truck Group/IWX machine in 11th fastest overall in time trials, Timms put himself in the second row of his heat race. Getting stuck on the high side when the race came to life, Timms was quickly shuffled back to sixth where he finished, before an 11th place finish in the semi ended his night.
Friday night's action saw Timms go out late in qualifying and time in 12th fastest in qualifications before going from fourth the third in his heat race which locked him into his first World of Outlaws NOS Energy Drink Sprint Car Series feature event of the 2023 season.
Taking the green flag from the 16th starting position, the youngster had a great night underway, and he was working his way towards the Top-10. Running in the 11th position, contact ensued which resulted in Timms spinning down the front straightway, putting him to the tail end of the field as he ultimately finished in 18th.
Saturday night was a race against the weather, and things got off to a rocky start for Timms as he ended up 33rd fastest in time trials before working his way forward from ninth to a seventh-place finish in his heat.
Forced into the 'B', Timms would not be denied a trip to the feature event as he battled hard from his sixth place starting spot and secured the fourth and final transfer position into the feature event, only to see rain delay the running of the 'A' until March 5th.
Escaping Volusia County, Timms and company made the trip to Tampa Bay, FL with the All Star Circuit of Champions as he competed at Easy Bay Raceway Park on Monday and Tuesday night to close out the 410ci portion of his Florida Speedweek.
Getting off to a quick start on the 1/3 mile bullring, Timms timed his fifth fastest overall and second quickest in his time trial group which ultimately put him on the front row of his heat race.
Settling into second as the field raced into turns one and two, Timms would keep his position and lock into the feature event as he solidified the ninth starting spot for the 30-affair.
Kicking things off in the Top-10, Timms would slowly slip back as he continued to search around the East Bay Raceway Park. When the checkered flag was displayed to the field, Timms ended up 15th, as he looked forward to one final night of All Star Competition on Tuesday night.
After having a strong start to his Monday night and fading in the feature, Tuesday night got off to the opposite start as Timms got off to a slower start as he timed in 22nd fastest overall and sixth quickest in his group.
Making some adjustments before his heat, Timms had his elbows up and make headway from the middle of the field as he carved is way to a third-place finish and transferred directly into the feature event.
Though he took the green flag from the 14th starting position, Timms would not be back there for long as the youngster came to life and put on a show. On a very racy surface, Timms saved his best 410ci performance for the final night as he passed cars at will and worked into the Top-10 on the just past the race's halfway point.
Taking over the ninth position on the 25th lap, Timms worked into seventh on lap 26th, before taking over the sixth position, where he finished, on the 28th lap.
"East Bay got off to a really good start for us on Monday, but in the feature, I made some mistakes early, and we also learned of some stuff on our car we could have done a little differently," Timms explained. "Tuesday was the exactly opposite, and I figured some things out in the seat, and we had a really good run. I am always happy when I can learn things behind the wheel, and when we learn things about a car. So we will take this, and hopefully have a good run in the 360 back at East Bay this weekend."
Ryan Timms would like to thank CITGO, Hampel Oil, Mystic Lubricants, Premier Truck Group, Western Flyer Xpress (WFX), IWX Motor Freight, K1, Durst Inc., Bell Helmets, Griffin Fishing Charters and Lodge, Xpress Truck Sales, Smith Ti, Blackbeard, AFD Graphix, Outlaw Wings, 947-Eyes, Kahne Screen Printing, ShopTeam5T.Com, TJ Forged, WFX Logistics, Select Coatings, Smiley's Racing Products, WFX Energy Services, and EMI for their support.
BY THE NUMBERS: Races-8, Wins-1, Top 5's-2, Top 10's-3
ON TAP: Timms returns to action this Thursday-Saturday at East Bay Raceway Park for the 'King of the 360' Ronald Lainey Memorial.
STAY CONNECTED: Stay updated with Ryan Timms by 'Liking' him on facebook at www.facebook.com/ryantimmsracing or by following him on Twitter at both @Timms5T and @RyanTimms_5T.
For all of your Ryan Timms Merchandise, please visit www.shopteam5t.com.
PETERSEN MEDIA: Petersen Media is a PR firm that can handle your public relations, marketing, and any other promotional needs. Petersen Media utilizes multiple tactics to help you reach your intended audience, to boost awareness.
For more information contact sales@petersenmediainc.com, by phone at 916-342-3424, visit www.petersenmediainc.com, www.facebook.com/PetersenMedia, or follow www.twitter.com/petersen_Media.
---
Article Credit: Petersen Media
Back to News