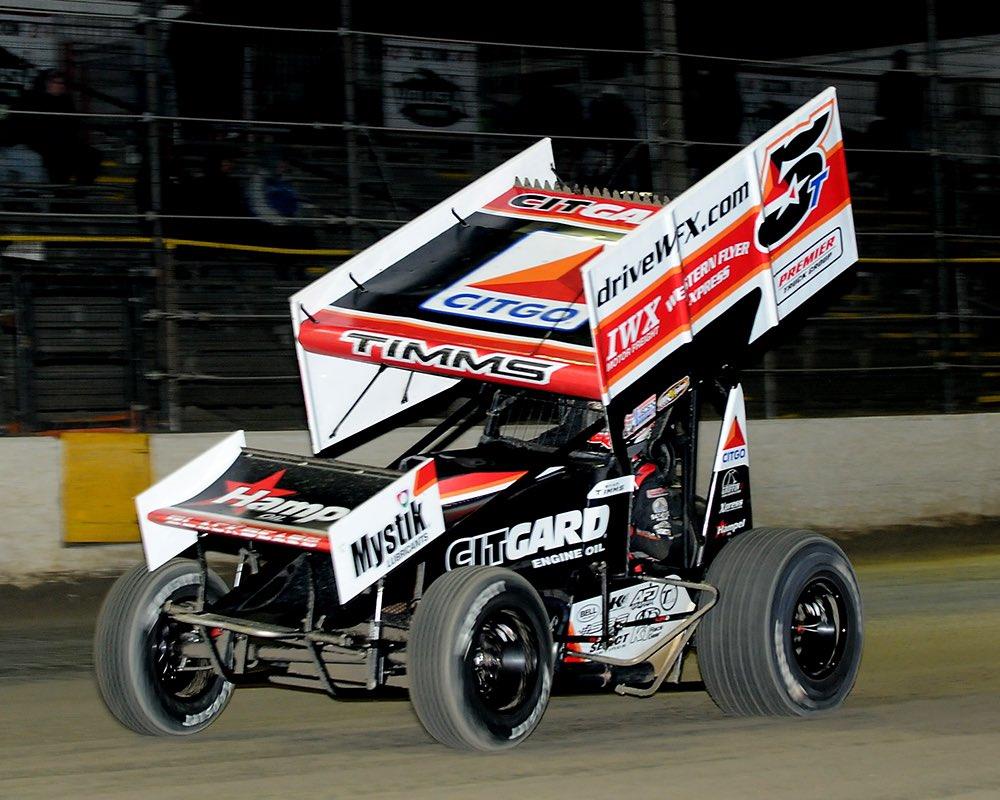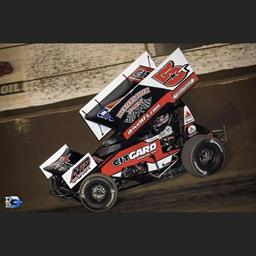 ---
Ryan Timms Records Pair of Top-5's at 'King of 360' Event
PETERSEN MEDIA: Switching to a 360ci powerplant following the conclusion of All Star competition earlier last week, Ryan Timms had a strong weekend at East Bay Raceway Park that included a pair of Top-5 finishes to go along with a pair of hard charges from deep in the field.
"With it being a draw show on Thursday and Friday, I drew the front row for my heat race each night, but running second in both heats put us deep in the field for both preliminary feature events," Ryan Timms said. "Fortunately, we raced really well both nights and that put us in good position for Saturday's finale."
Lining the CITGO/Hampel Oil/Mystic Lubricants backed No. 5T up on the front row of his Thursday night heat race, Timms would settle into second when the green lights flashed as Zeb Wise got the early jump.
Needing the win to vastly improve his feature event starting position, Timms would settle for second and ultimately find himself in the seventh row for the 25-lap feature event.
Working his way into the Top-10 by the fifth lap of the 'A', Timms would continue to work his way forward on the 'Clay by the Bay'. Racing into seventh on lap nine, Timms would get into sixth with just 10-laps left in the feature.
Cracking the Top-Five with six laps left in the opening night feature event, the Oklahoma City, OK youngster battled with Parker Price Miller for the fourth spot, with PPM ultimately fending him off.
Continuing to run in fifth, Timms would then feel heavy pressure from Tim Shaffer for fifth, and lost the position to the veteran for a pair of laps before making a last lap pass to secure a fifth place finish at the finish line.
Returning to action on Friday night, Timms again found himself on the pole for his heat race as he shared the front row with Terry McCarl.
With McCarl getting the jump, Timms hung in the second position for the second night in a row which also resulted in him lining up in the feature from the 14th starting position for the second consecutive night.
Nearly mirroring his performance from Thursday night, Timms again worked his way forward aboard the Premier Truck Group/WFX/IWX Motor Freight entry as he earned valuable event points which each move he made.
Getting into seventh in the closing laps, another last lap move netted him a sixth-place finish and locked him into Saturday night's $10,000-to-win King of the 360 feature event.
Drawing the five for the feature event, Timms rolled off the starting grid from the fifth spot for the 40-lap finale on a very slick and abrasive racing surface that was on the verge of taking rubber before the race went green.
Underway, Timms was back in seventh in the early laps as passing proved to be tough with track conditions. Working his way into fifth as he took advantage of competitors missing their marks, Timms moved into fourth when the first driver blew a right rear on the 22nd lap.
Running in fourth, Timms' fate with a blown tire came shortly after as he was the second victim as his let go on the 27th lap. Initially not making it out of the work area in time, another caution flag on the ensuing restart allowed him to make his way back on to the racing surface from the tail end of the field.
With a fresh right rear bolted on, Timms wasted no time driving around cars who were trying to nurse their tires as was back into fifth in just 10-laps. Racing his way into a third on a restart, it was deemed he made a move before the flag stand, and he was docked two positions on the next yellow.
Falling back to fifth, Timms then had two cars with a fresh tire now in front of him which sealed his fate as he capped the weekend off with a fifth-place finish.
"With the way the track was, I was really hoping we would be the first to blow a tire, because I knew ours wasn't going to last, and if it did, there would be no way we would be very fast at the end of the race," Timms said. "We ended up being the second car to blow a tire, and we were able to race back up to third after going to the tail. Unfortunately, I got docked for passing before the flag stand and it put two guys with fresh rubber in front of us and we were stuck in fifth, where we finished. Overall, it was a good weekend for our team, and we passed a lot of cars on some tricky track conditions. Thanks to my guys for their hard work, and all our sponsors for their support."
Ryan Timms would like to thank CITGO, Hampel Oil, Mystic Lubricants, Premier Truck Group, Western Flyer Xpress (WFX), IWX Motor Freight, K1, Durst Inc., Bell Helmets, Griffin Fishing Charters and Lodge, Xpress Truck Sales, Smith Ti, Blackbeard, AFD Graphix, Outlaw Wings, 947-Eyes, Kahne Screen Printing, ShopTeam5T.Com, TJ Forged, WFX Logistics, Select Coatings, Smiley's Racing Products, WFX Energy Services, and EMI for their support.
BY THE NUMBERS: Races-11, Wins-1, Top 5's-4, Top 10's-6
ON TAP: Timms will stick around Florida as he returns to Volusia Speedway Park with the World of Outlaws March 5th and 6th. He will also take part in the makeup feature from last weekend with the World Outlaws.
STAY CONNECTED: Stay updated with Ryan Timms by 'Liking' him on facebook at www.facebook.com/ryantimmsracing or by following him on Twitter at both @Timms5T and @RyanTimms_5T.
For all of your Ryan Timms Merchandise, please visit www.shopteam5t.com.
PETERSEN MEDIA: Petersen Media is a PR firm that can handle your public relations, marketing, and any other promotional needs. Petersen Media utilizes multiple tactics to help you reach your intended audience, to boost awareness.
For more information contact sales@petersenmediainc.com, by phone at 916-342-3424, visit www.petersenmediainc.com, www.facebook.com/PetersenMedia, or follow www.twitter.com/petersen_Media.
---
Article Credit: PJ Petersen | Petersen Media
Back to News