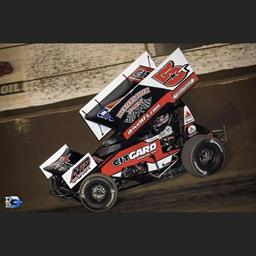 ---
Timms Puts On Hard Charge With Xtreme Outlaw Midgets During Double Duty Outing at I-55 Raceway
PETERSEN MEDIA: After a heat race incident ended his night at the High Limit Racing Series opener last Tuesday, Ryan Timms had a very busy Friday night at I-55 Raceway as he competed with the World of Outlaws NOS Energy Drink Sprint Car Series, as well as with the Xtreme Outlaw Midget Series.
"In the sprint car, I really need to get qualifying figured out," Timms explained. "I feel like we race really well, but with the way the format is, if you don't time well, you put yourself really far behind and it is tough to come back against those guys."
With Mother Nature ultimately cancelling Saturday night's show in I-55 Raceway, Friday night was the lone night of action at the high banked facility in Pevely, MO.
In sprint car action, Timms got his night underway by timing the CITGO/Hampel Oil/Mystic Lubricants backed No. 5T in 29th fastest in time trials, which lined him up in the fourth row of his heat race.
From the eighth starting position, the Oklahoma City, OK driver picked up a couple of positions as he finished sixth, but it wasn't enough to lock into the feature event and he was forced into the Last Chance Showdown.
Lining up third in the LCS, Timms battled hard for the final transfer position into the feature as he hooked up in an entertaining tussle with Jacob Allen. As the duo swapped the fourth spot, Timms would end up losing the battle as his fifth place finish in the LCS ended his night in sprint car action.
Making his first midget start of the season with Keith Kunz Motorsports, Timms was able to shake off some early rust after timing the JBL Audio/TRD backed No. 67 in fifth fastest in his group.
Starting and finishing fifth in his heat race, Timms found himself on the front row of the "B" as he looked for a way into the 30-lap feature event. Getting the jump when the green lights flickered, Timms picked up the win and moved into the 'A' where he lined up int eh 17th starting position.
After coming to life in the 'B', Timms carried it over into the 'A', as he wasted no time working his way forward. Racing into the Top-10 in just four laps, Timms was into ninth by lap five.
Getting more comfortable with each and every lap, Timms caught his second win at the halfway point as he jumped into eighth. Looking for more as the race quickly began the home stretch, Timms worked into sixth on the 25th lap and was not done yet.
Working his way into fourth with three laps left in the 30-lapper, Timms made a last lap move on Kyle Jones to secure the final spot on the podium and cap his charge from 17th.
"It had been since the chili bowl since I was in a midget last, and since November since I ran one in an outdoor race, so I had some rust to knock off," Ryan Timms added. "The Keith Kunz Motorsports team gave me a really strong car, and once I got comfortable, we were really fast and had a great run in the feature. I am looking forward to getting right back to it this weekend in Kokomo with USAC."
Ryan Timms would like to thank CITGO, Hampel Oil, Mystic Lubricants, Premier Truck Group, Western Flyer Xpress (WFX), IWX Motor Freight, K1, Durst Inc., Bell Helmets, Griffin Fishing Charters and Lodge, Xpress Truck Sales, Smith Ti, Blackbeard, AFD Graphix, Outlaw Wings, 947-Eyes, Kahne Screen Printing, ShopTeam5T.Com, TJ Forged, WFX Logistics, Select Coatings, Smiley's Racing Products, WFX Energy Services, and EMI for their support.
BY THE NUMBERS: Races-21, Wins-1, Top 5's-5, Top 10's-7
ON TAP: Timms will be in Kokomo, IN this Friday and Saturday with the Keith Kunz Motorsports team to open the NOS Energy Drink National Midget slate.
STAY CONNECTED: Stay updated with Ryan Timms by 'Liking' him on facebook at www.facebook.com/ryantimmsracing or by following him on Twitter at both @Timms5T and @RyanTimms_5T.
For all of your Ryan Timms Merchandise, please visit www.shopteam5t.com.
PETERSEN MEDIA: Petersen Media is a PR firm that can handle your public relations, marketing, and any other promotional needs. Petersen Media utilizes multiple tactics to help you reach your intended audience, to boost awareness.
For more information contact sales@petersenmediainc.com, by phone at 916-342-3424, visit www.petersenmediainc.com, www.facebook.com/PetersenMedia, or follow www.twitter.com/petersen_Media.
---
Article Credit: PJ Petersen | Petersen Media
Article Media
Back to News