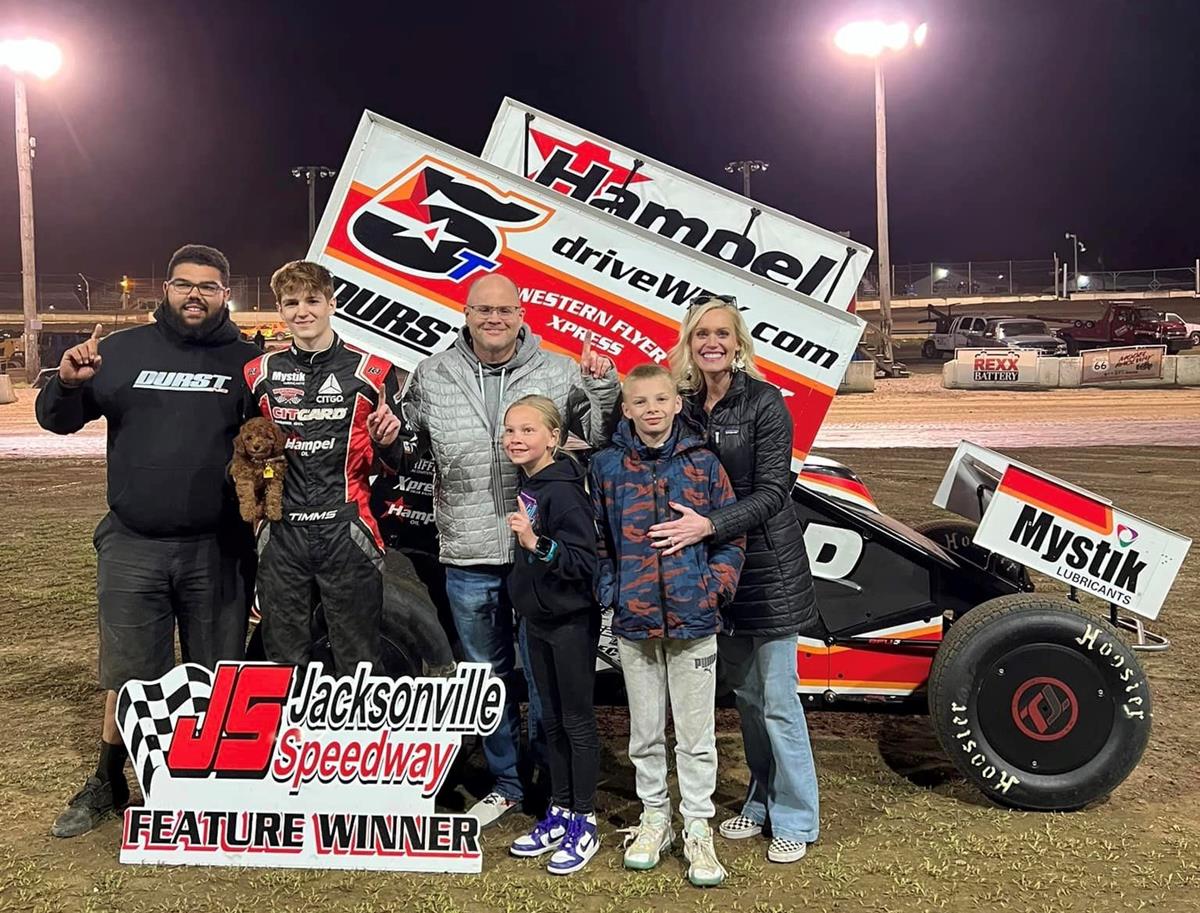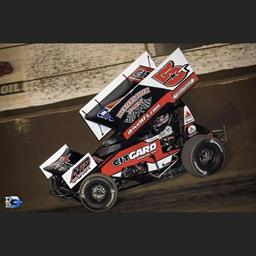 ---
Timms Tops Field at Jacksonville Speedway Opener
PETERSEN MEDIA: While weather pounded most of the Midwest and East Coast, Ryan Timms and the Ryan Timms Racing team were able to still find racing. Travelling to IL, MO, and IA over the last few days, Timms was able to pick up his second win of the season as won at Jacksonville Speedway on Friday night during the track's season opening event.
"Running with the Outlaws as much as we have to start the season and really helped me as a driver, and taught me a lot as we have travelled to a lot of different tracks,' Ryan Timms said. "Friday night, we set ourselves up early, and in the feature we had a really dominant car and raced to our first win since early February."
Running a pill draw format at Jacksonville Speedway, Timms lined the CITGO/Hampel Oil/Mystic Lubricants backed No. 5t up in in the third row of his heat race.
On the racy ¼ mile bullring nestled in rural Illinois, the Oklahoma City, OK youngster had his elbows up and put on a show and he dazzled onlooker. Powering his way to the heat race win, Timms put his mount on the pole of the of 25-lap feature event.
With the waiving of the green flag, Timms continued to showcase a very strong car as he jumped to the early lead and dominated the feature. Leading from flag to flag, Timms tamed to bullring, and scored his second win of the season before heading to Missouri on Saturday night.
Running the POWRi 410ci event at Benton Speedway, Timms got off to another good start as he won his heat race from the second row and moved directly into the feature event.
Putting his entry on the pole for the second consecutive night, Timms had hopes of picking up the weekend sweep. When the race came to life, Timms battled with Joe B. Miller during the opening lap before he settled into second.
Hanging with the leader, Timms was able to get the top working in his favor as lapped traffic came into play. Keeping his momentum as Miller worked traffic on the bottom, Timms pushed a little too hard as he looked to charge into the lead and looped his machine to a stop on the 11th lap.
Relegated to back of the pack, Timms would bounce back and score a ninth place finish when the race ended.
Tuesday night the team headed to West Burlington, IA for the second round of High Limit action as the upstart series rolled into 34-Raceway.
Timing the WFX/IWX Motor Freight/Durst Inc. backed entry in 11th fastest in his qualifying flight, Timms took the green flag from the third row of his heat race.
Slipping back to a seventh-place finish, Timms was relegated to a star studded 'B', as he had one final shot to transfer into the $23,023-to-win feature event.
The 12-lap B saw Timms line up in the sixth starting position with four transfer positions up for grabs. Though the semi was plagued with a few stoppages, Timms was unable to get going as he slipped back and ended his Tuesday night by finishing ninth in the 'B'.
"Saturday night we had another really good car, I was closing in on the leader and just made a mistake that really cost us a shot at the win," Timms said. "The High Limit Race, we were really fast early in the night, and I felt good early in the 'B', I just faded towards the end. I made some mistakes on my end, we could have been a little better, but our group wins as a team and loses as a team, so we will try again this weekend."
Ryan Timms would like to thank CITGO, Hampel Oil, Mystic Lubricants, Premier Truck Group, Western Flyer Xpress (WFX), IWX Motor Freight, K1, Durst Inc., Bell Helmets, Griffin Fishing Charters and Lodge, Xpress Truck Sales, Smith Ti, Blackbeard, AFD Graphix, Outlaw Wings, 947-Eyes, Kahne Screen Printing, ShopTeam5T.Com, TJ Forged, WFX Logistics, Select Coatings, Smiley's Racing Products, WFX Energy Services, and EMI for their support.
BY THE NUMBERS: Races-24, Wins-2, Top 5's-6, Top 10's-9
ON TAP: Timms is slated to be in action at Granite City on Friday night, Knoxville on Saturday night and Mason City on Sunday.
STAY CONNECTED: Stay updated with Ryan Timms by 'Liking' him on facebook at www.facebook.com/ryantimmsracing or by following him on Twitter at both @Timms5T and @RyanTimms_5T.
For all of your Ryan Timms Merchandise, please visit www.shopteam5t.com.
PETERSEN MEDIA: Petersen Media is a PR firm that can handle your public relations, marketing, and any other promotional needs. Petersen Media utilizes multiple tactics to help you reach your intended audience, to boost awareness.
For more information contact sales@petersenmediainc.com, by phone at 916-342-3424, visit www.petersenmediainc.com, www.facebook.com/PetersenMedia, or follow www.twitter.com/petersen_Media.
---
Article Credit: Petersen Media
Back to News