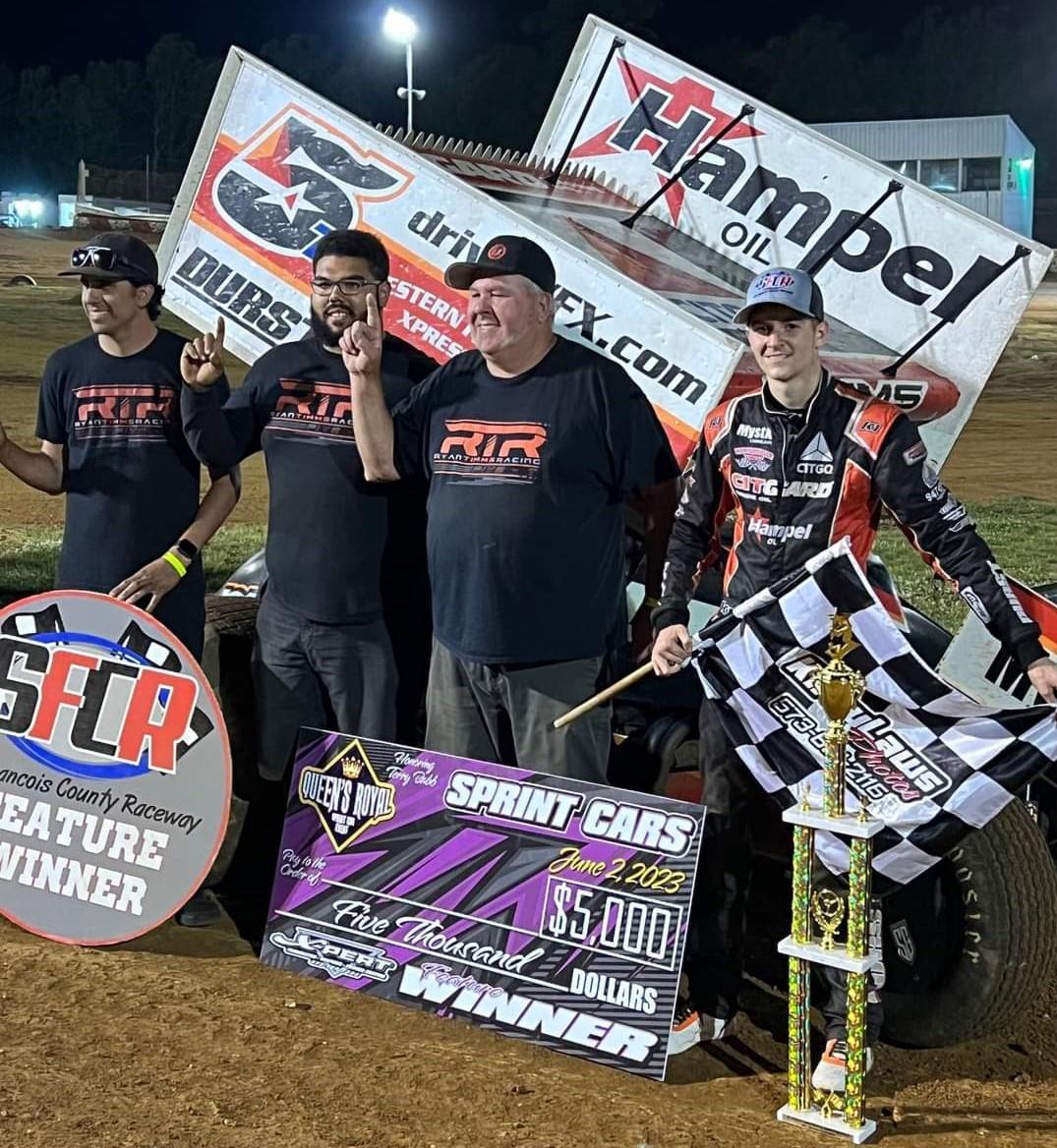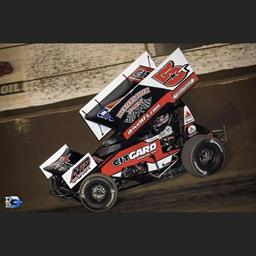 ---
Timms Tops Queen's Royal Opener
PETERSEN MEDIA: Amidst a very busy stretch in his 2023 campaign, Ryan Timms picked up his fourth win of the season last Friday night at St Francois County Speedway before picking up a third-place finish on Saturday night and kicking off Indiana Midget Week on Friday.
"It's a crazy part of our season right now, and to get a win and a podium on Friday and Saturday night makes all the long nights a little more worth it," Ryan Timms said.
Friday and Saturday night, Timms was extremely fast at St Francois County Raceway. Friday night, he opened the weekend up by timing the CITGO/Hampel Oil/Mystic Lubricants backed No. 5T in fastest overall and lined up on the front row of his heat race.
Picking up a second-place finish in heat race action, the Oklahoma City, OK native moved into the Dash where he raced his way to the win and lined up on the pole for the $5,000-to-win feature event.
Getting the jump, Timms got out to a comfortable lead as he clicked off great laps after having some bad luck the week prior while battling up front at Huset's Speedway.
In complete control of the feature, Timms kept the field at bay as he wired the field and scored his fourth win of the season and locked into Saturday's feature event in doing so.
By way of his Friday night win, Timms waited around on Saturday night until the Dash rolled off, and he found himself in the third row of eight-lap shootout. Slipping back to seventh when the race came to life, Timms was unable to work his way forward and put himself in the fourth row to start the 50-lap Queen's Royal feature event.
On a very slick surface, Timms jumped into fifth in the opening stages of the race and soon worked his way into third. As the track started to take rubber, Timms and team made the decision to put on a new set of tires on the 38th lap hoping to work their way back through the field as tires hopefully began to fail.
Going back to 10th, Timms was able to work his way back forward as their plan began to come to fruition. Getting back to fifth, Timms ran out of time, but a couple of drivers failed post race tech and it moved Timms on to the podium officially.
"We have been really fast in the sprint car as of late, and limiting my mistakes puts us in great spots," Timms said. "Excited to get with the KKM team all week and take part in Indiana Midget Week."
Midget week kicked off last night, and Timms opened the busy week up with a 12th place finish at Tri-State Speedway in Haubstadt, IN.
Ryan Timms would like to thank CITGO, Hampel Oil, Mystic Lubricants, Premier Truck Group, Western Flyer Xpress (WFX), IWX Motor Freight, K1, Durst Inc., Bell Helmets, Griffin Fishing Charters and Lodge, Xpress Truck Sales, Smith Ti, Blackbeard, AFD Graphix, Outlaw Wings, 947-Eyes, Kahne Screen Printing, ShopTeam5T.Com, TJ Forged, WFX Logistics, Select Coatings, Smiley's Racing Products, WFX Energy Services, and EMI for their support.
BY THE NUMBERS: Races-43, Wins-4, Top 5's-9, Top 10's-15
ON TAP: With Indiana Midget Week underway, Timms will be in action tonight at Circle City Raceway, Wednesday night at Gas City I 69 Speedway, Thursday night at Lincoln Park Speedway, Friday night at Bloomington Speedway, Saturday night at Lawrenceburg Speedway, and Sunday night at Kokomo Speedway.
With Tuesday night off for Midget Week, Timms will head to Eagle Raceway with the High Limit Racing Series.
STAY CONNECTED: Stay updated with Ryan Timms by 'Liking' him on facebook at www.facebook.com/ryantimmsracing or by following him on Twitter at both @Timms5T and @RyanTimms_5T.
For all of your Ryan Timms Merchandise, please visit www.shopteam5t.com.
PETERSEN MEDIA: Petersen Media is a PR firm that can handle your public relations, marketing, and any other promotional needs. Petersen Media utilizes multiple tactics to help you reach your intended audience, to boost awareness.
For more information contact sales@petersenmediainc.com, by phone at 916-342-3424, visit www.petersenmediainc.com, www.facebook.com/PetersenMedia, or follow www.twitter.com/petersen_Media.
Back to News