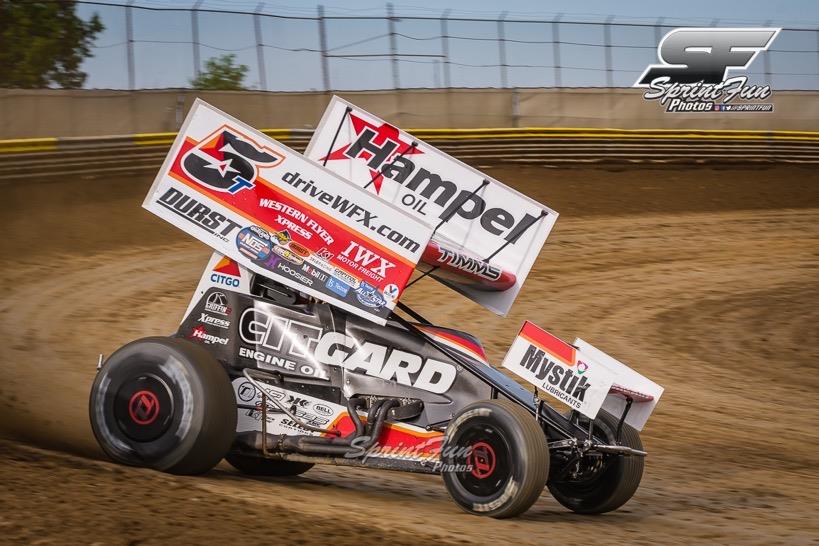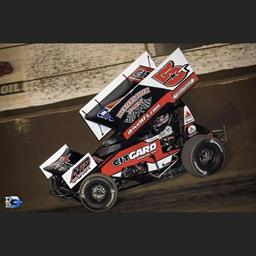 ---
Timms 10th in High Bank Nationals Last Chance Showdown
PETERSEN MEDIA: Getting back to racing action after taking week off on the heels of a very busy stretch, Ryan Timms took to the Huset's Speedway for the High Bank Nationals and ended up with a 10th place finish in the Saturday night Last Chance Showdown.
"We had good speed, but we had some bad luck," Ryan Timms said. "We did make the feature on Wednesday and Friday and put ourselves in a position to race into the feature on Saturday in our qualifier, but I made a mistake and put us in the 'B'."
Timing in ninth fastest on Wednesday night, Timms was able to race his way into the feature out of his heat race but started deep in the field. Lining up 19th, the Oklahoma City, OK racer was off to a good start as he worked into 14th.
On the eighth lap, Timms slowed as he lost a rear end and brought his night to an early end and was credited with a 24th place finish.
After timing in 20th fastest on Thursday night, Timms ended up seventh in his heat race and did have enough points to move directly into the feature event. Forced into the 'B', Timms lined up 15th in the semi, and chased after one of four transfers into the 'A'.
On the bullring, Timms had his elbows up and was able to work his way forward. Racing into the Top-10, Timms got to ninth before running out of time as his night came to an end.
With one final night to add to his point total and set himself up for a run on Saturday, Friday night saw the youngster time the CITGO/Hampel Oil/Mystic Lubricants backed No. 5T in 25th fastest in time trials.
Lining up on the front row of his heat, Timms jumped on the throttle and surged out to the early lead. Leading the duration of the race, Timms' win gave him the points necessary to transfer to the feature, and he rolled off the starting grid from the 16th starting position.
Working his way forward, Timms had a very solid run during the 35-lap affair. Racing from 15th, Timms hot up as high as 12th at various times of the race as he hooked up in several exciting battles. When the checkered flag flew, Timms accepted it in 15th, and found himself 24th overall in points and in the second row of a Saturday night qualifier with the top three moving directly into the 'A'.
Not getting off to the start he needed, Timms slipped back to fifth when the race came to life. Unable to get into a transfer, Timms was forced into the 'B' with one final shot at qualifying for the 'A'.
After qualifiers were complete, the sky opened up and a rainstorm drenched the facility. While track crews were able to get the surface back into racing shape, it was very heavy and fast and did not allow for much passing the rest of the night.
Lining up 11th in the LCS, making up that ground was definitely a tall order. In the end, Timms' 10th place finish brought his High Bank Nationals to an end.
"It was a tough show, but we were in a good spot when it counted, I just made a mistake," Timms said. "After the rain, the track was locked down so we didn't have much of a shot in the semi. Thanks to my guys for all of their hard work during a busy four night swing."
Ryan Timms would like to thank CITGO, Hampel Oil, Mystic Lubricants, Premier Truck Group, Western Flyer Xpress (WFX), IWX Motor Freight, K1, Durst Inc., Bell Helmets, Griffin Fishing Charters and Lodge, Xpress Truck Sales, Smith Ti, Blackbeard, AFD Graphix, Outlaw Wings, 947-Eyes, Kahne Screen Printing, ShopTeam5T.Com, TJ Forged, WFX Logistics, Select Coatings, Smiley's Racing Products, WFX Energy Services, and EMI for their support.
BY THE NUMBERS: Races-53, Wins-5, Top 5's-10, Top 10's-17
ON TAP: Timms now follows the World of Outlaws NOS Energy Drink Sprint Car Series to Cedar Lake Speedway on Friday and then makes his way to Knoxville Raceway on Saturday.
ON TAP: Timms will now take some much deserved time off before returning to action at Huset's Speedway June 21-24th at the High Bank Nationals.
STAY CONNECTED: Stay updated with Ryan Timms by 'Liking' him on facebook at www.facebook.com/ryantimmsracing or by following him on Twitter at both @Timms5T and @RyanTimms_5T.
For all of your Ryan Timms Merchandise, please visit www.shopteam5t.com.
PETERSEN MEDIA: Petersen Media is a PR firm that can handle your public relations, marketing, and any other promotional needs. Petersen Media utilizes multiple tactics to help you reach your intended audience, to boost awareness.
For more information contact sales@petersenmediainc.com, by phone at 916-342-3424, visit www.petersenmediainc.com, www.facebook.com/PetersenMedia, or follow www.twitter.com/petersen_Media.
---
Article Credit: PJ Petersen | Petersen Media
Back to News