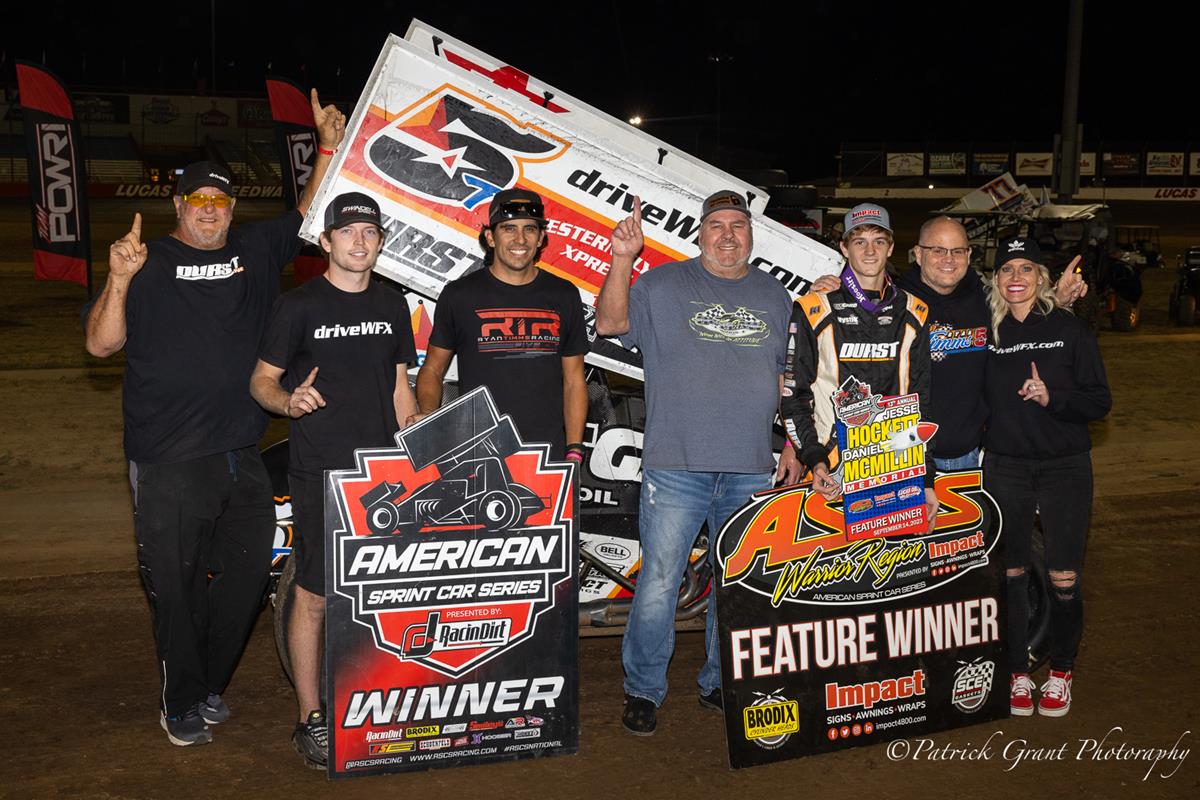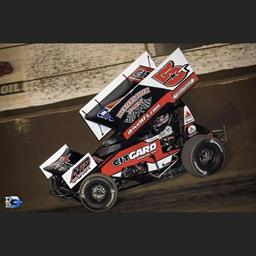 ---
Ryan Timms Sweeps The Hockett/McMillin Memorial
PETERSEN MEDIA: Making a last-minute decision to compete in the Hockett/McMillin Memorial at Lucas Oil Speedway, Ryan Timms made the most of the schedule change as he picked up the win during Thursday's preliminary action, and backed it up by winning the weather delayed finale on Sunday night.
"We decided kind of late to head to Wheatland, MO for the Hockett/McMillin Memorial, and I'm glad we did," Ryan Timms said. "We were fast all weekend long, and it's a super cool race to win."
Kicking the weekend off on Thursday night, the Oklahoma City, OK native earned fast time honors in his qualifying group, and that set a strong tone for the rest of the weekend.
Lining up fourth in his heat race, Timms powered his way to the lead aboard his CITGO/Hampel Oil/Mystic Lubricants backed No. 5T, and raced on to the win. By way of his win, Timms then found himself on the pole of the Thursday night feature event as he sat in prime position to lock into the Saturday night feature event.
From the drop of the green flag, Timms flexed his muscle and continued to put the star-studded field on notice for the rest of the weekend. Keeping the field at bay, Timms went on to pick up the Thursday night win, which locked him into the Hockett McMillin Memorial feature event that was originally scheduled to be ran on Saturday.
Finding himself atop the event points after Friday night's action, Timms was on the pole of the feature event, however Mother Nature made him wait it out, as the event was postponed to Sunday late afternoon.
Having a ton of confidence heading into the championship finale, Timms knew with the track conditions that rubber was imminent.
On the slick and abrasive surface, Timms continued to showcase the same speed he had on Thursday night as he jumped out to the lead and set the early pace. With second place continuing to shadow him, the 17-year-old continued to change his line until he found one that allowed him to create some separation.
Continuing to hold the point, Timms went on to pick up the win and cap off a weekend sweep.
"With it being a day race essentially on Sunday I knew it would take rubber, but I was surprised with how long it took," Timms added. "I had a blast running the 360ci again, and I'm happy to get this win as it was definitely one on my bucket list."
Ryan Timms would like to thank CITGO, Hampel Oil, Mystic Lubricants, Premier Truck Group, Western Flyer Xpress (WFX), IWX Motor Freight, K1, Durst Inc., Bell Helmets, Griffin Fishing Charters and Lodge, Xpress Truck Sales, Smith Ti, Blackbeard, AFD Graphix, Outlaw Wings, 947-Eyes, Kahne Screen Printing, ShopTeam5T.Com, TJ Forged, WFX Logistics, Select Coatings, Smiley's Racing Products, WFX Energy Services, and EMI for their support.
BY THE NUMBERS: Races-83, Wins-8, Top 5's-20, Top 10's-33
ON TAP: Timms will be in a USAC Midget Thursday night at Gas City, as well as Friday and Saturday at Eldora Speedway. Friday and Saturday he will also pull double duty as he will compete with both the World of Outlaws NOS Energy Drink Sprint Car Series and the All Star Circuit of Champion.
STAY CONNECTED: Stay updated with Ryan Timms by 'Liking' him on facebook at www.facebook.com/ryantimmsracing or by following him on Twitter at both @Timms5T and @RyanTimms_5T.
For all of your Ryan Timms Merchandise, please visit www.shopteam5t.com.
PETERSEN MEDIA: Petersen Media is a PR firm that can handle your public relations, marketing, and any other promotional needs. Petersen Media utilizes multiple tactics to help you reach your intended audience, to boost awareness.
For more information contact sales@petersenmediainc.com, by phone at 916-342-3424, visit www.petersenmediainc.com, www.facebook.com/PetersenMedia, or follow www.twitter.com/petersen_Media.
---
Article Credit: PJ Petersen | Petersen Media
Back to News