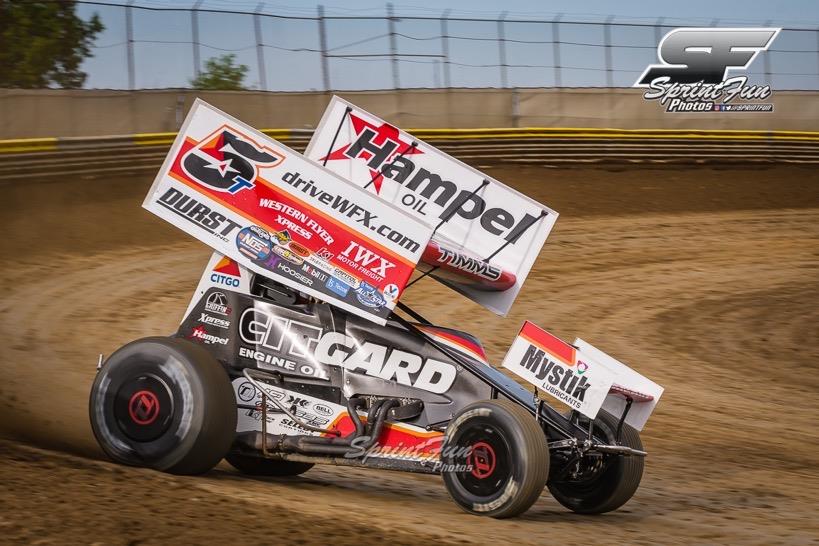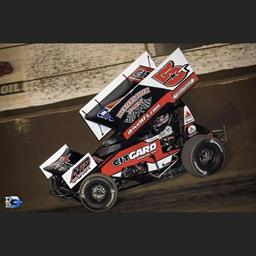 ---
Late Race Flat Derails Ryan Timms at Buckeye Brawl
PETERSEN MEDIA: Going through a spell of bad luck, Ryan Timms looked to be well on his way to a strong finish with the High Limit Racing Series on Tuesday night, but a mid-race flat had other ideas.
"Tuesday night I was really happy with how our night was going," Ryan Timms said. "We timed in well, raced into the Dash, and battled inside the Top-10 until we had a right front go down and we were forced to the work area. We have had a lot of bad luck as of late, and I think it was taken away some good finishes for us."
Tuesday night, Timms got the night underway by timing the CITGO/Hampel Oil/Mystic Lubricants backed No. 5T in eighth fastest in his qualifying flight and that put the Oklahoma City, OK native in the second row of his heat race.
In an action packed heat race, Timms had his elbows up as he carved his way into a Dash spot by way of his second place finish as he also locked into the 35-lap feature event.
Drawing the seven in the High Limit Room prior to the Dash, Timms' eighth place finish put him in the fourth row of the 35-lap, $32,023-to-win feature event.
Moving into sixth on the race's opening stanza, action throughout the throughout the top-five saw Timms bounce between fifth and seventh amidst a couple of exciting multi car battles.
Sitting in seventh during a lap 13 caution, Timms' right front tire would go down and he would be forced to go to the work area and forfeit his position inside the Top-10.
Restarting from 22nd, it proved to be tricky race his way back towards the Top-10 in dense traffic. When the dust settled on the exciting feature event, Timms took the checkered flag with a 19th place finish.
Rain washed out Timms' plans on Saturday and Sunday, but the 16-year-old was in action on Friday night at Jacksonville Speedway with the All Star Circuit of Champions, a track he was victorious at just a few weeks back.
Timing in fifth fastest in qualifying, Timms was relegated to a sixth-place finish in his heat race and made a stop in the 'B'.
Winning the semi, Timms moved into the feature event and took the green flag from the 21st starting position.
On the tight confines of Jacksonville Speedway, Timms was able to slowly race his way forward as he worked through traffic on the bullring. Working into 16th just past the halfway point of the feature event, Timms then had issues which resulted in a flat right rear with 10-to-go, and his night came to an early end.
"We are a little down, but there are times where we have a lot of speed," Timms said. "We will weather this rough patch, and hopefully have things start going our way very soon."
Ryan Timms would like to thank CITGO, Hampel Oil, Mystic Lubricants, Premier Truck Group, Western Flyer Xpress (WFX), IWX Motor Freight, K1, Durst Inc., Bell Helmets, Griffin Fishing Charters and Lodge, Xpress Truck Sales, Smith Ti, Blackbeard, AFD Graphix, Outlaw Wings, 947-Eyes, Kahne Screen Printing, ShopTeam5T.Com, TJ Forged, WFX Logistics, Select Coatings, Smiley's Racing Products, WFX Energy Services, and EMI for their support.
BY THE NUMBERS: Races-30, Wins-2, Top 5's-6, Top 10's-9
ON TAP: Timms will now turn his attention to midget racing as he will be with Keith Kunz Motorsports this Friday and Saturday at the Belleville Short Track in Belleville, KS and on Sunday at Sweet Springs Motorsports Complex in Sweet Springs, MO.
STAY CONNECTED: Stay updated with Ryan Timms by 'Liking' him on facebook at www.facebook.com/ryantimmsracing or by following him on Twitter at both @Timms5T and @RyanTimms_5T.
For all of your Ryan Timms Merchandise, please visit www.shopteam5t.com.
PETERSEN MEDIA: Petersen Media is a PR firm that can handle your public relations, marketing, and any other promotional needs. Petersen Media utilizes multiple tactics to help you reach your intended audience, to boost awareness.
For more information contact sales@petersenmediainc.com, by phone at 916-342-3424, visit www.petersenmediainc.com, www.facebook.com/PetersenMedia, or follow www.twitter.com/petersen_Media.
---
Article Credit: PJ Petersen | Petersen Media
Back to News