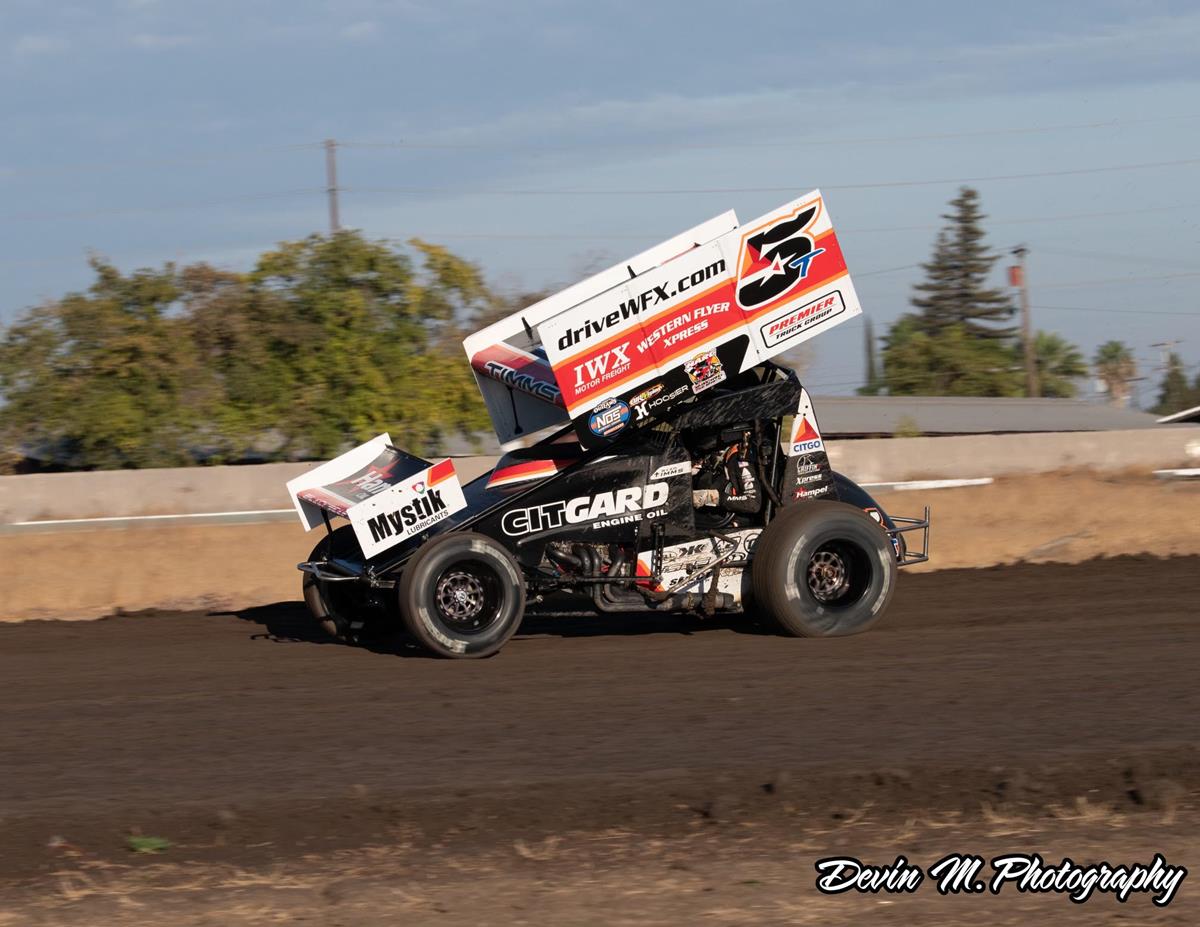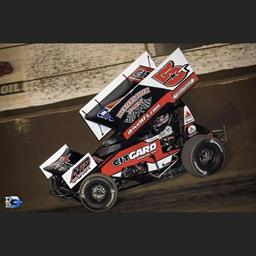 ---
Timms Set To Kick Off USAC National Midget West Coast Swing As He Continues CA Stay
PETERSEN MEDIA: Continuing to race in CA until the NOS Energy Drink USAC National Midget Series kicks their west coast swing off, Ryan Timms battled with the NARC/KWS Series on Saturday night in Stockton, CA as the series hosted their final event of the 2023 season.
"Stockton was tricky this go round," Ryan Timms said. "It was super heavy and rough, and we just missed it on our car, and it was tough to drive. With the way the night went around us, I got to the point where I just called it an early night."
Making his debut at 'The Stockton Dirt Track' just one year ago, Timms was back on Saturday night for his second crack at the 3/8 mile facility located on the San Juaquin County Fairgrounds.
With 18 cars checked in for the final event of the season for the series, Timms timed the CITGO/Hampel Oil/Mystic Lubricants backed No. 5T in 13th fastest in qualifying tie trials, before finishing fifth in his heat race.
Lining up 14th on the grid for the 30-lap feature event, a pre-race track grooming session created a surface that was extremely narrow and made passing a bit tougher than it had been earlier in the night.
Dealing with some rough patches as well, Timms fought a very tight race car as he patiently waited his way through some early stoppages in the feature event.
Hoping he could get going forward once the race got into a green-flag run, Timms was mired back in 14th and opted to call it a night with less than 10-to-go in the feature event.
"It was a rough night for some of the guys racing around us, so it got to the point where I wasn't going to make a late race charge, and lived to race another day," Tims added.
Now, Timms turns his attention back to USAC National Midget action, as the series makes it's annual final push in the golden state.
Next Tuesday night, the series will be in action in Bakersfield, CA before heading to Merced, CA, Placerville, CA and the season finale event in Ventura, CA.
The event in Bakersfield, CA will be Timms' second appearance at the track, and his first with KKM as last year's event was cancelled.
Having a rough go at Placerville Speedway during the 2022 Hangtown 100, the ¼ mile bullring was good to the youngster back in 2021 as he picked up the opening night win, and will look for more success during this year's event.
Merced Speedway in Merced, CA is another bullring that Timms is eager to back to this year after a pair of 13th place finishes last season, and though he had success in a non-wing sprint car at Ventura Raceway last season, Timms looks to better last seasons' 14th place effort in Midget action during the upcoming Turkey Night Grand Prix.
Ryan Timms would like to thank CITGO, Hampel Oil, Mystic Lubricants, Premier Truck Group, Western Flyer Xpress (WFX), IWX Motor Freight, K1, Durst Inc., Bell Helmets, Griffin Fishing Charters and Lodge, Xpress Truck Sales, Smith Ti, Blackbeard, AFD Graphix, Outlaw Wings, 947-Eyes, Kahne Screen Printing, ShopTeam5T.Com, TJ Forged, WFX Logistics, Select Coatings, Smiley's Racing Products, WFX Energy Services, and EMI for their support.
BY THE NUMBERS: Races-104, Wins-10, Top 5's-26, Top 10's-45
ON TAP: Timms reunites with his Keith Kunz Motorsports team on November 14th in Bakersfield, CA.
STAY CONNECTED: Stay updated with Ryan Timms by 'Liking' him on facebook at www.facebook.com/ryantimmsracing or by following him on Twitter at both @Timms5T and @RyanTimms_5T.
For all of your Ryan Timms Merchandise, please visit www.shopteam5t.com.
PETERSEN MEDIA: Petersen Media is a PR firm that can handle your public relations, marketing, and any other promotional needs. Petersen Media utilizes multiple tactics to help you reach your intended audience, to boost awareness.
For more information contact sales@petersenmediainc.com, by phone at 916-342-3424, visit www.petersenmediainc.com, www.facebook.com/PetersenMedia, or follow www.twitter.com/petersen_Media.
---
Article Credit: PJ Petersen | Petersen Media
Back to News